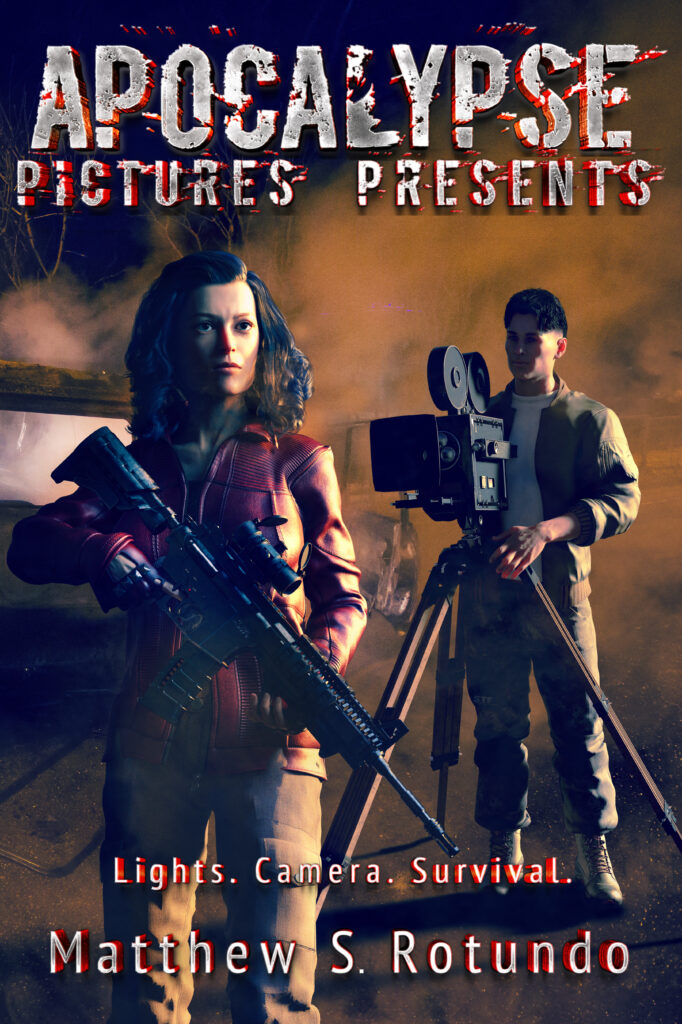 Now Playing at Ruins Near You. Apocalypse Pictures Presents, the latest from Matthew S. Rotundo, is now available.
In the aftermath of a catastrophic pandemic called the Red Death, those who remain have banded together in barricaded enclaves, struggling to survive in a world where no one goes unarmed anymore.
But Gil Thornton, an aspiring screenwriter and director before the plague, has a crazy dream–to make a movie in the ruins of civilization. He has one working camera, a script, and a dedicated cast and crew, each with their own set of skills. When a disastrous encounter leaves the Apocalypse Pictures team devastated and without hope, Gil decides their only chance to finish the film is to break into the heavily guarded Hollywood Hills and shoot on the Universal Studios backlot.
To get it done, they must face nanotechnically reanimated corpses, a madman from Anaheim and his rodent-garbed gang, and a former movie mogul backed by a private army. Gil and his team will have to choose between getting the shot and saving lives—unless there's a way to do both…
Where To Buy Apocalypse Pictures Presents
Look to the Skies. From Earth I Have Arisen tells another tale of the Red Death, this one in America's heartland.
America has fallen to a devastating plague. What remains of the population huddles in small enclaves around the country—many of them run by brutal strongmen.

Hope comes unbidden in the form of a masked liberator calling himself Captain Dark Eagle, who rides the night skies in a black hot air balloon. Some think him insane. Others consider him a traitor. And still others hunt him, seeking vengeance.

But when he tries to avert a miniature war brewing between two rival Midwestern towns, he discovers a web of secrets and schemes that could cost thousands of lives, including his. Now Captain Dark Eagle must decide what price he will pay to bring back his lost America…or if there is anything left to save.
Where to Get From Earth I Have Arisen