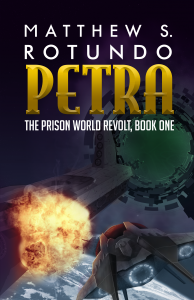 If you've been waiting for the print edition of Petra, wait no longer.  It's now available here.
Sorry it took so long, folks.  Publishing your own book has its share of rewards, but it's awfully time consuming, too.  I'll be quicker with the next one, promise.
As a refresher, here's some jacket copy:
Welcome to Petra.
It is the ultimate prison. Inmates from all of Ported Space are dumped there, forgotten, and left to survive however they can. Hope dies. Escape is impossible.
Disillusioned war hero Kane Pythen comes to Petra on a fact-finding mission, but gets caught in an uprising that threatens to expose a shattering secret. And Rolf Ankledge, Petra's ruthless warden, will stop at nothing to keep it from reaching Ported Space. If Kane involves himself, he risks losing everything he has. If he does nothing, he betrays the last shreds of his ideals.
The prison break of the millennium is on. Now Kane must race against time and vicious forces from all over Petra if he ever wants to see his wife and daughter again.
Some reminders:
If you enjoy Petra, please consider leaving a review for it, even if it's just a sentence or two.  The more reviews the book gets, the better Amazon likes it.  The better Amazon likes it, the happier Matt will be.
Also, make sure you sign up for my mailing list.  You'll be among the first notified about any new developments, such as special offers, or the release of the next book.  No spam, I promise.  Your email will never be shared, and you can unsubscribe at any time.
The Nebula nomination window has closed, but you can still nominate for the Hugos.  If you're a Hugo voter and would like a copy of Petra, hit me up in the comments.  Make sure to specify your format preference.
And of course, the Kindle edition is still available, too.
If you have any other questions, feel free to leave them in the comments.
To sum up, then:  Petra in print.  Reviews good.  Author happy.
Rock on.